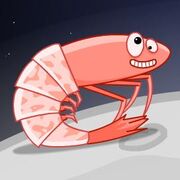 Insanity Prawn Boy is an insane, drooling prawn that had traveled to the Moon by stealing a space ship after being frozen for thousands of years. While it is implied by Strewth Irwin that his species is a typical lunar inhabitant, this has been shown to be false; it is revealed in the first Prawn to be Wild episode that he originated from an underwater kingdom inhabited by prawns. He now lives in the same apartment building as the Toast King. He has been known to cause mischief since his arrival, including the theft of Moon Hitler's testicle (claiming it was "a big, fat doobie!"), hosting a wine and cheese party in his apartment, prankcalling England in the 1880s with the Toast King's stolen Moon-phone, wrapping up the Moon as a present (four times), driving away with an open-top rocket, inviting his troublesome squid/octopus family to visit the Moon ("sucky, sucky!"), stealing butter from a group of Space Invaders, sending the Toast King insulting e-mails using the internet and mistaking face hugger eggs for regular eggs when setting up the annual Moon Easter egg hunt. He has confused Christmas with Tuesday on three separate occasions, and is known to suffer carapace complaints. Testicles, the word "anus", and hot lava excite him. He once called Pluto a fat-ass when it sat on his plums. Insanity Prawn Boy is now the star of what once was an on-going origin story in the form of a Flash game titled Prawn to be Wild, which has been stated to explain how he got to the moon. The game was updated every Friday, and was sponsored by T-Mobile.
Ad blocker interference detected!
Wikia is a free-to-use site that makes money from advertising. We have a modified experience for viewers using ad blockers

Wikia is not accessible if you've made further modifications. Remove the custom ad blocker rule(s) and the page will load as expected.