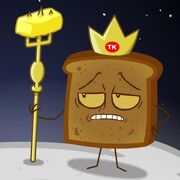 The Toast King is an abnormally large, anthropomorphic slice of toast who rules over the Moon, due to his theory that "heat induces royalty". He sports a crown bearing the initials 'TK', and is often seen holding a golden pitchfork atop which is speared a knob of butter. A running joke, mentioned in episodes 2 and 9, is the reference to the Toast King not having a penis, but having instead a "knob of butter". Despite claims that he is ruler of the whole Moon, this may not be entirely true, as he has an apartment and landlord, Mr. Hymen (though he assures Moon Keith Moon that this is all just a "tax scam"). He does, however, claim to rule over Moon Hitler's Nazi Moon Base. From his attempt at growing a mint plant, the Toast King appears to be a keen gardener, so it is strange that he does not realize that plants need carbon dioxide, or oxygen, for growth. In episode eight, it seems he has come to terms with living in a vacuum, pointing out that it is odd for it to be hot in a place with no atmosphere. He feels that being royalty has left him "without a great deal of rhythm", is a huge fan of Mariah Carey, and has been known to make crepes.
Ad blocker interference detected!
Wikia is a free-to-use site that makes money from advertising. We have a modified experience for viewers using ad blockers

Wikia is not accessible if you've made further modifications. Remove the custom ad blocker rule(s) and the page will load as expected.